OUR SPEAKERS
We're delighted that we have had so many brilliant guest speakers, all of whom have generously brought their own individual talent and expertise to our courses.
They include:
* DOMINIC LORD - comedy writers' agent
* JILL FOSTER - comedy writers' agent
* HANNAH MACKAY - writer, script editor and director
*
RAY GALTON &

ALAN SIMPSON

- co-writers of 'Hancock' and 'Steptoe & Son'
*
GARY WILD

- comedy writers' agent
*
KEITH BARRON

- actor and comedy star
*
SIMON BRETT

- radio producer, novelist and comedy writer
*
JAY SODEGAR

- stand-up comic and Edinburgh Fringe star
*
BILL CLARK

- film director and scriptwriter
*
JENNY HUTTON

- Harlequin, Mills & Boon senior editor

* RICHARD HARRIS - legendary award winning comedy writer

*PETE ATKIN - writer, musician and radio comedy producer
JAN ETHERINGTON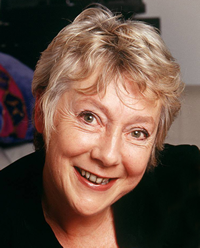 Jan presents all our weekend courses, sharing her experience and 'things I wish I'd known, when I started out, 20 years ago'. With her writing partner, Gavin Petrie, she created a string of successful television and radio comedies and believes 'many people have a talent for writing humour, but lack the experience of pulling it all together.'
Sporting her 'I'm Here to Help' badge, Jan adds 'A lot of advice is practical - help with the structure, the layout, the storyline.  Others want encouragement and advice about the characters they're creating – how to make them memorable, romantic, sharp.  For many, it's finding out how to turn dialogue that makes you smile, into the kind that has you laughing out loud.
'I hope students will take away the essential ingredients that will help them become smarter, funnier comedy writers, and better equipped to compete in one of the toughest markets in the world of broadcasting.'
Your View of Us
Our Students come from all over the country, from all walks of life, across all ages, and at all different levels of writing. Many of them come back for a second or a third time. But from the full time writer to the absolute beginner, they all have one common aim - to explore the world of comedy writing. Below is just a selection of the feedback we are delighted to have received.
'Brilliant course, great food, great company and great talent – thanks,'
Andrew Grant, writer
'A fantastic mix of advice, examples, expertise and practical workshops. Jan's presentation style is so engaging yet also very informative (so hard to do both) All round, this was a great weekend that I'd recommend to anyone with an interest in comedy or character-based writing (or excellent cake!).'
Kate Harrison, novelist
'A fascinating and insightful couple of days. I enjoyed every aspect of it - and if I never write another word in my life, the fact that I had the chance to talk to Alan Simpson will remain with me always as a career high.'
John H, comedy writer
'Thank you for an Absolutely Fabulous weekend. I learned so much from how to pitch, find a good logline, how to avoid… well, so many things. Now I can safely say, been there and got the t-shirt 'Jan Etherington for an Oscar,' on it.
Lynn Breeze, children's author
'The course was exceptional. Jan gave so much of herself in the talks and the workshop. Alan Simpson was really interesting and writer's agent, Gary Wild, brought a dose of reality about how tough this business is.'
Dominic Wake, comedy writer
'Thanks to all of you - I had a great time, really inspirational and you all contributed to a very comfortable 'safe' environment for us all to be a little creative!!'

Alison Leitch, stand-up comic
'A huge THANK YOU for all the care, dedication, warmth, professionalism and yummy food. I had such an inspiring nurturing time thanks to all your efforts.'
Rosemarie H, author
'I thought the mix of practical/theory worked really well, and the two extra speakers really added value, as did the great food, and the feeling of being really well looked after.'
Sarah Palmer, author